Introduction and Overview
The continuous demand for energy among the rising global population that is driving the requirement to implement sustainable energy strategies, so that a sustainable economy can be promoted globally is driving the growth of the global Wind Energy Generation Materials market. The International Energy Agency (IEA) had released its report that shows that statistics on the gross electricity production across the world was 2.5% higher in 2017 as compared to the year 2016. It also states that, in OECD countries, the gross electricity production was about 11051 TWh, while the non-OECD countries recorded about 14,670 TWh. Worldwide, many initiatives are being taken to meet the rising demand for energy. While catering to these demands, the impact on environment is also being considered. These initiatives are anticipated to notably contribute to the growth of the global Wind Energy Generation Materials market over the next decade. Among the four leading non-OECD countries that comprise of China, India, Russia and Brazil, energy consumption in China was the highest at 46.7% among the non-OECD member nations, while all non-OECD member nations combined together contributed about 37.2% of the global consumption. During the period from 2010-2017, the average growth rate of electricity consumption in industrial sector was 0.2% (as compared to -0.8% during 2000-2010). On the other hand, commercial and public services and residential sector observed an average growth rate of 0.3% (a decline of 1.8% from 2.1% growth rate observed in 2000-2010) and -0.5% (a decline of 2.5% from 2.0%). Lastly, transport segment registered an average growth rate of 2.3% (an increase of 2.9% from -0.6% during 2000-10). Many regions across the world have started shifting towards alternative sources of energy by opting for renewables to be used in power generation, due to the greenhouse gases (GHG) emissions causing environmental degradation. This is estimated to provide significant opportunities in the Wind Energy Generation Materials market over the next 6-7 years.
Our overall market analysis on the global Wind Energy Generation Materials market covers latest trends and opportunities along with macro-economic indicators that are driving the growth of the market. Additionally, our bottom-up and top-down approach to calculate the market numbers along with detailed segmentation and regional average pricing analysis is provided in this report. Moreover, our report highlights correlation and regression analysis, demand and supply risk including formulating strategies to attract potential customers. Furthermore, our report contains data on Y-o-Y growth rate and absolute $ opportunity value that the global Wind Energy Generation Materials market is estimated to record in 2027 as compared to 2018.
Top Macro-Economic Indicators Impacting the Growth:
With growing amount of energy consumption, the CO2 emissions related to energy production grew by 1.7% to 33 Gigatonnes during 2018. Out of this, the power generated through use of coal (contributed by coal power plants in Asia) had crossed 10 Gt in the same year. Meanwhile, fossil fuel accounted for about 70% of the overall increase in demand for fuel. On the other hand, double digit growth was recorded in solar and wind energy generation. The use of natural gas contributed to an increase of about 45% in energy consumption in 2018. The countries such as United States of America and China observed significant demand for natural gas. The International Energy Agency reported a power consumption of about 5537 TWh by China and 3738 TWh of power was consumed by United States of America during the year 2017.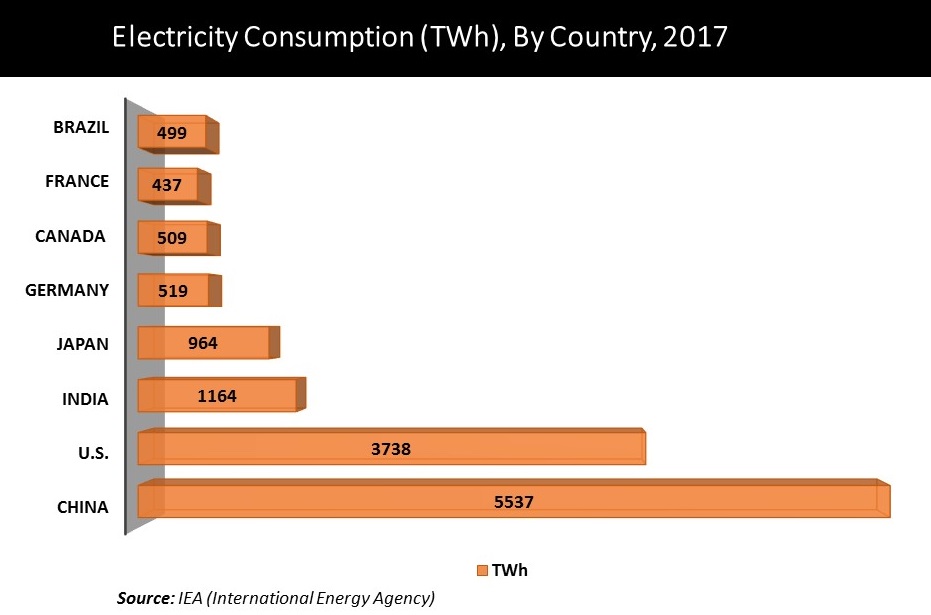 The growing rate of energy related CO2 emissions, coupled with rise in ecological concerns due to fast depletion of fossil fuels and their impact on environment is anticipated to offer many significant business opportunities for key players to make investments in solar panels and solar panel recycling among others, as they are sustainable. The overall volume of accumulated photovoltaic panel waste across the globe is estimated to account for 60-70 million tons by 2050 according to International Renewable Energy Agency (IRENA). These factors are driving several governmental bodies to encourage green projects that include coming out with practical and energy efficient ways to manage waste globally.
Export and Import Scenario by Regions, (USD Thousands), 2017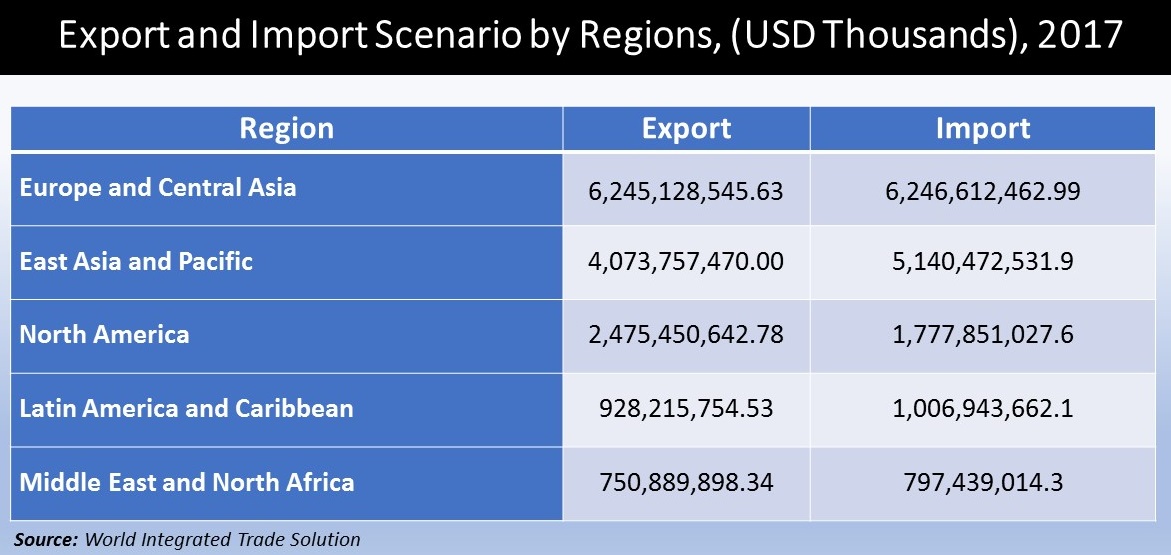 Geographic Overview
A separate section in the report highlights regional scenario in market which includes North America (further segregated into U.S. and Canada).
The report further includes a section on European region which is further segmented on a country/regional level including Germany, U.K., France, Italy, Spain, BENELUX, Netherlands, NORDIC, Poland, Hungary, Russia, Turkey, and Rest of Europe.
In the Asia Pacific Wind Energy Generation Materials market, the report studies China, India, South Korea, Indonesia, Malaysia, Japan, Australia, New Zealand and Rest of Asia Pacific. In the Latin America section, an in-depth analysis on Mexico, Brazil, Argentina and Rest of Latin America is covered. Middle East and Africa region have been further identified for the Wind Energy Generation Materials market demand and segregated into Israel, GCC (Saudi Arabia, UAE, Bahrain, Kuwait, Qatar, Oman), North Africa, South Africa and Rest of Middle East and Africa.
Competitive Landscape
A complete section on competitive landscape provides an understanding of the companies in current strategic report based upon various parameters which includes overview of the company, business strategy, major product offerings, key performance indicators, risk analysis, recent development, regional presence and SWOT analysis. There is a separate section which has been provided on the market share of key players in this market, as well as the competitive positioning of the players.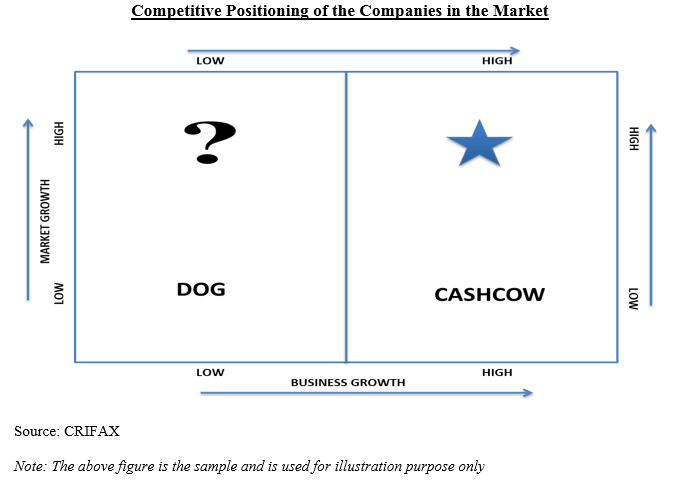 Key Players
Siemens AG
Vestas Wind System AS
Suzlon Energy Limited
Acciona S.A.
Gamesa Corporacion Tecnologica
Key Topic Covered
Market Size, Demand, Y-o-Y Growth Comparison
Market Segmentation Analysis
Market Segmentation Analysis by Geography

North America (U.S. and Canada)
Latin America (Brazil, Mexico, Argentina, Rest of Latin America)
Europe (Germany, France, UK, Spain, Italy, BENELUX, NORDIC, Russia, Poland, Turkey, Hungary, Rest of Europe)
Asia Pacific (China, Japan, India, South Korea, Indonesia, Malaysia, Australia, New Zealand, Rest of Asia Pacific)
Middle East and Africa (GCC, North Africa, South Africa, Rest of Middle East and Africa)

Absolute $ Opportunity
Regional Average Pricing Analysis
Demand and Supply Risk
Regulatory Landscape
Regression and Correlation Analysis
Porters Five Force Model
Market Dynamics

Growth Drivers

Demand Side Drivers
Supply Side Drivers
Economy Side Drivers

Challenges
Trends
Opportunities

Macro-economic Indicators impacting the growth of the market
Competitive Landscape

Market Share of the companies
Competitive Positioning of the companies
Overview of the companies
Key Product Offerings
Business Strategies
Financial Performance
Key Performance Indicators
Risk Analysis
SWOT Analysis
Recent Developments
Regional Presence
Major Target Audience for this report:
Manufacturers of the product
Suppliers of raw materials
Distributors
Strategic and management consulting firms
Investors
Investment banks
Various regulatory and Government bodies
Industrial Associations
Research Organizations and institutes
Organizations, alliances and forums related to this market
Crucial Questions Answered in this report:
How the market is going to be impacted based upon the macroeconomic indicators?
What are the various opportunities in Wind Energy Generation Materials market?
Which segment and which country has the fastest growth?
Complete analysis of the competitive landscape
Where the maximum opportunity lies in terms of further investments by region?
Potential countries for investment
Scope for the Customization:
We are open for the customization of this report for our client.