Introduction and Overview
The Information and Communications Technology (ICT) sector in Middle East and North Africa (MENA) region is witnessing a period of moderate growth and economic growth in the region is anticipated to grow at an average of 2 percent in 2018 from an average of 1.4 percent in 2017. The experience of digitalization and ICT are varied as the levels of development are different between the nations as well as within every nation in the region. There are plenty of opportunities available for growth in the region, as only a fraction of the businesses have a digital presence. The reforms taken up by various countries in the region and the policies enacted for maintaining a healthy level of economic growth have boosted the growth of the market in the region. Besides, the region is also witnessing a rise of oil prices and growing external demand which are helping the growth of the region. The countries that have seen high investments in basic infrastructure in the MENA region are Saudi Arabia, Qatar, Kuwait and United Arab Emirates (UAE). Presently, young population under the age of twenty five (25) years represent nearly half of the population in the region.
As per World Economic Forum report, mobile internet, cloud technology were considered to be the second leading drivers of change for the period 2015-2020. The presence of online talent platforms throughout the MENA region could provide several tangible benefits in the form of shifting people towards formal jobs from informal jobs. This could in a way increase the workforce participation and additional hours worked, especially for those individuals who were formerly inactive or under-employed. The time taken for job searches can be reduced to a great extent. These steps are anticipated to create additional full-time equivalent jobs in the region. The GDP in Egypt is anticipated to grow by USD 21 billion, while GDP is anticipated to increase by USD 41 billion and USD 32 billion in Turkey and Saudi Arabia. The number of jobs predicted to be added is about 945,000 in Egypt, while about 799,000 jobs in Turkey and around 276,000 jobs in Saudi Arabia are anticipated to be added by 2025. Our overall market study offers extensive analysis on market scope as well as the growth per annum for Middle East and North Africa Connected Tv market in terms of revenue, market segmentations, and gain indicators stimulating the growth of the market. In order to stay ahead of the game, our report highlights market restraints, opportunities and trends that are dominant and are impacting the growth of the market. The Middle East and North Africa Connected Tv market is estimated to record notable absolute $ opportunity value in 2027 as compared to the value achieved in 2019.
The Middle East and North Africa Connected Tv market analysis comprise of advanced insights and strategies to provide 360° approach to contact potential customers along with risk analysis covering supply and demand risks that are affecting the growth of the market. Additionally, the report covers regression and correlation analysis that display relationship between independent and dependent variables.
Top Macro-Economic Indicators Impacting the Growth:

According to World Bank, the MENA region has improved its literacy levels considerably and there has been a tremendous improvement in the schooling level ever since 1960. More than 5.3 percent of GDP has been invested towards public education across the region. The companies that are in ICT sector can utilize the opportunity to develop the technical backbone of the education sector in the region. This can be done by collaborating with the governments of the region to reap the benefits of this growing sector in the long term. Currently, several nations in the MENA region such as Egypt, Morocco, Jordan, Turkey, the UAE and Tunisia have invested substantially in ICT-enabled services and ICT outsourcing sector. Egypt's outsourcing sector is supporting more than 80,000 jobs directly, with business coming from the Gulf and Saudi Arabia. About 80,000 workers from Turkey are being employed with outsourcing sector creating USD 1.6 billion in value. Digital fluency and ICT literacy skills are becoming critical for all working classes. Most of the population in the region are young and for those who have joined the workforce, the opportunities for reskilling and up skilling of those who are employed will be present. The governments are also taking note of the ICT sector's full potential and are anticipated to provide the support and recognition to capacity building by addressing the needs of individuals, institutions and industry.
According to GSMA, the Mobile Economy report, the adoption of smartphones is anticipated to rise from 52 percent in 2018 to 74 percent in 2025 in the region. The number of subscribers is predicted to rise from 64 percent in 2018 to 69 percent in 2025, while at the same time, the number of smartphone connections is predicted to rise from 54 percent in 2018 to 74 percent in 2025. Moreover, the rise in adoption of smartphones and availability of high-speed networks at affordable prices for consumers is anticipated to lead to an increase in usage of mobile data from 3.7 GB per subscriber per month to 19 GB per subscriber per month globally by 2024. According to International Trade Administration, Saudi Arabia being the largest ICT market in the Middle East, had witnessed a six percent growth in ICT sector spending in 2017 to reach USD 36 billion and is anticipated to expand to reach close to USD 40 billion.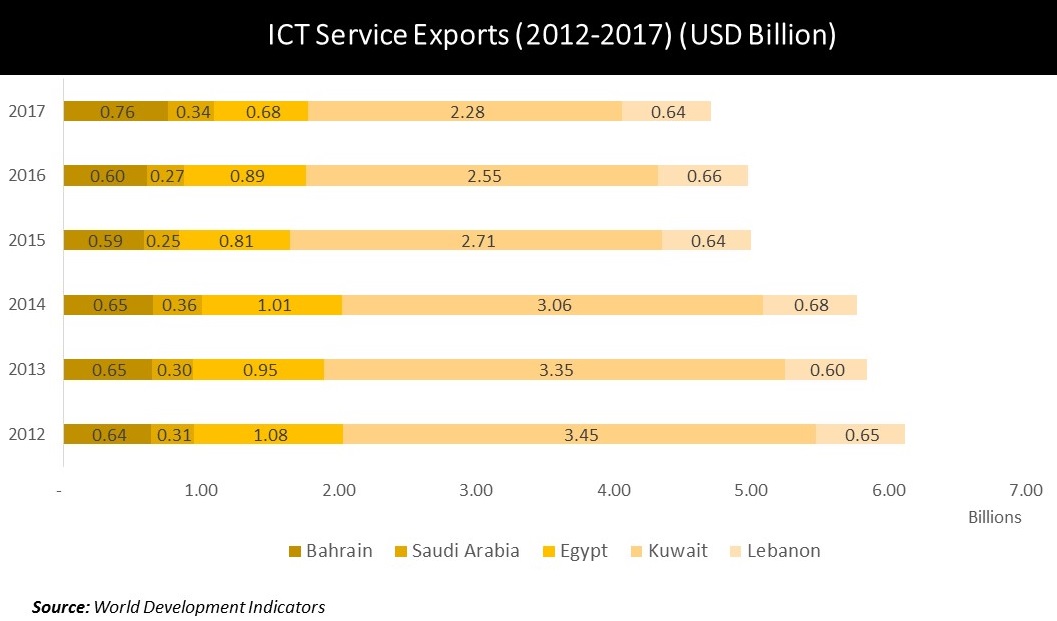 As per World Development Indicators (WDI), the ICT service exports in Bahrain grew from USD 0.64 billion in 2012 to USD 0.76 billion in 2017. Additionally, Saudi Arabia recorded export revenues of USD 0.34 billion as against USD 0.31 billion in 2012. As per GSMA report, the percentage of population who are mobile internet subscribers in the MENA region are about 40 percent, while on the other hand those individuals who are covered by mobile broadband (MBB) but have not subscribed to mobile internet are about 44 percent. The population in MENA region that is out of coverage of MBB are about 16 percent as of 2018.
Export and Import Scenario:

Geographic Overview
In the Middle East and Africa region Connected Tv market, the report studies Connected Tv market demand and is segregated into Israel, GCC (Saudi Arabia, UAE, Bahrain, Kuwait, Qatar, Oman), North Africa, South Africa and Rest of Middle East and Africa.
Competitive Landscape
A complete section on competitive landscape provides an understanding of the companies in current strategic report based upon various parameters which includes overview of the company, business strategy, major product offerings, key performance indicators, risk analysis, recent development, regional presence and SWOT analysis. There is a separate section which has been provided on the market share of key players in this market, as well as the competitive positioning of the players.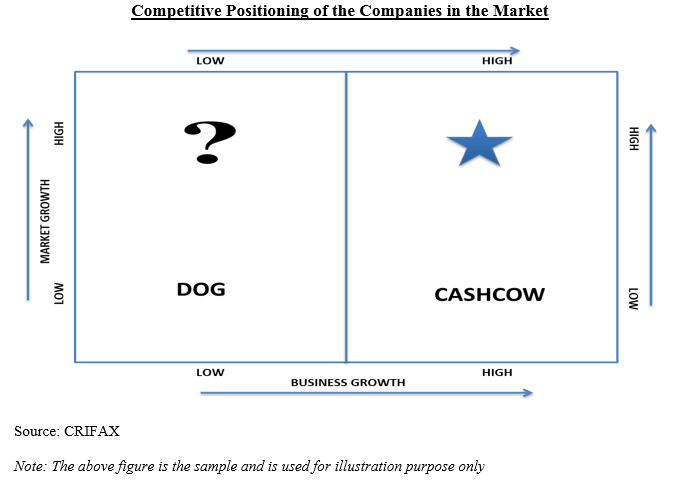 Key Topic Covered
Market Size, Demand, Y-o-Y Growth Comparison
Market Segmentation Analysis
Market Segmentation Analysis by Geography

North America (U.S. and Canada)
Latin America (Brazil, Mexico, Argentina, Rest of Latin America)
Europe (Germany, France, UK, Spain, Italy, BENELUX, NORDIC, Russia, Poland, Turkey, Hungary, Rest of Europe)
Asia Pacific (China, Japan, India, South Korea, Indonesia, Malaysia, Australia, New Zealand, Rest of Asia Pacific)
Middle East and Africa (GCC, North Africa, South Africa, Rest of Middle East and Africa)

Absolute $ Opportunity
Regional Average Pricing Analysis
Demand and Supply Risk
Regulatory Landscape
Regression and Correlation Analysis
Porters Five Force Model
Market Dynamics

Growth Drivers

Demand Side Drivers
Supply Side Drivers
Economy Side Drivers

Challenges
Trends
Opportunities

Macro-economic Indicators impacting the growth of the market
Competitive Landscape

Market Share of the companies
Competitive Positioning of the companies
Overview of the companies
Key Product Offerings
Business Strategies
Financial Performance
Key Performance Indicators
Risk Analysis
SWOT Analysis
Recent Developments
Regional Presence
Major Target Audience for this report:
Manufacturers of the product
Suppliers of raw materials
Distributors
Strategic and management consulting firms
Investors
Investment banks
Various regulatory and Government bodies
Industrial Associations
Research Organizations and institutes
Organizations, alliances and forums related to this market
Crucial Questions Answered in this report:
How the market is going to be impacted based upon the macroeconomic indicators?
What are the various opportunities in Connected Tv market?
Which segment and which country has the fastest growth?
Complete analysis of the competitive landscape
Where the maximum opportunity lies in terms of further investments by region?
Potential countries for investment
Scope for the Customization:
We are open for the customization of this report for our client.