Introduction and Overview
The Europe Spinal Muscular Atrophy Treatment Market is estimated to witness a steady rate of growth over the next decade, owing to several factors such as increasing focus laid by governments towards expenditure on research and development in healthcare and various structural changes brought into the system, so that it will enable various healthcare providers to focus on better productivity by ensuring that, on the one hand adequate volume is handled and at the same time, quality of service is also maintained by healthcare providers. The healthcare sector has been evolving and transforming itself at a rapid pace, with digital technologies being embraced across the European region and changes observed in the methods used in diagnosis and treatment of patients.

The health expenditure by government in the European Union (EU) reached USD 1220.455 billion which was equal to 7.0 percent of GDP in 2017. Our study on the Europe Spinal Muscular Atrophy Treatment market is driven by the adoption of an exhaustive approach towards the industry analysis comprising of the overall market size and revenue growth, recent market developments, growth drivers, market segmentation, opportunities and challenges that are influencing the growth of the market. The Europe Spinal Muscular Atrophy Treatment market is estimated to attain notable absolute $ opportunity value in 2027 as compared to the value achieved in 2019.
The study of the Europe Spinal Muscular Atrophy Treatment market offers a detailed analysis including a risk analysis that covers demand and supply risk affecting the growth of the market accompanied by existing and future market trends prevalent in the region. Further, the inclusion of a correlation and regression analysis for determination of relation between independent and dependent variables is covered in the study.
Top Macro-Economic Indicators Impacting the Growth: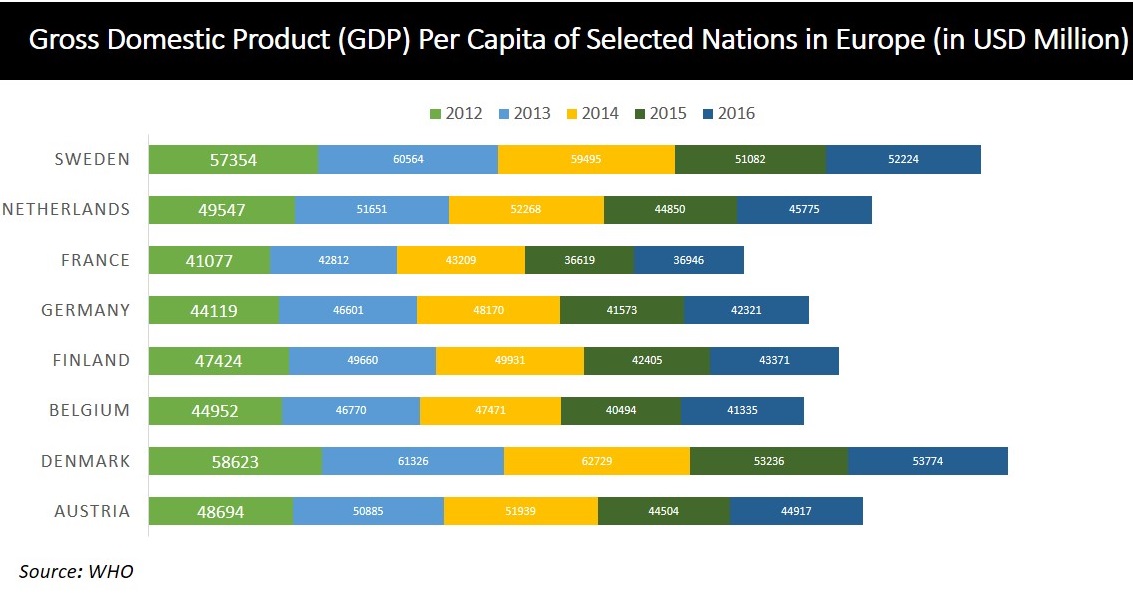 The region of Europe registered an increase in GDP growth rate of 2.1 percent in 2017 from 1.8 percent registered in 2016 that was considered to be the highest since 2007. Countries belonging to the European Union (EU) such as France, Germany and Sweden recorded the highest healthcare expenditure in relation to GDP that was hovering between 11.0% and 11.5% in the year 2016 with the level of current healthcare expenditure in Germany being the highest among the EU member states reaching USD 389.51 billion in 2016. Countries such as France and United Kingdom were placed second and third respectively in their order of healthcare spending by recording USD 284.39 billion and USD 258.94 billion respectively in 2016. About 9.6 percent of the GDP of the EU had been spent towards healthcare in 2017. Switzerland recorded the highest share of 12.3% of its GDP on health spending. On the other hand, countries such as Romania (5.2%) and Luxembourg (6.1%) recorded a lower share of health spending in GDP with Turkey recording the lowest share of 4.2% of GDP on health spending in 2017.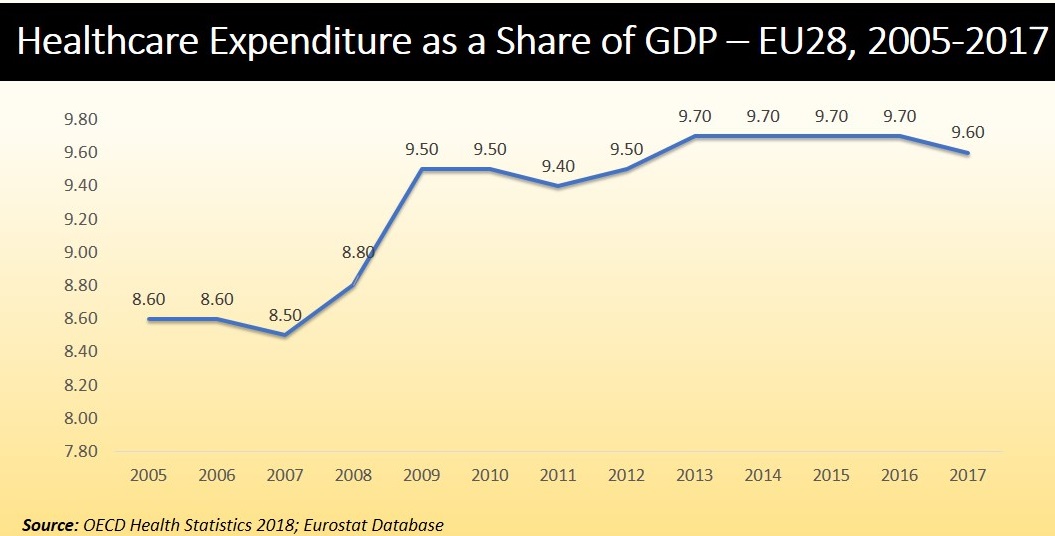 The EU 28 recorded a marginal growth in its population from 50,40,47,749 individuals in 2012 to 512,379,225 individuals in 2018. Luxembourg recorded a healthcare expenditure of USD 6196.736 per inhabitant, followed by countries such as Sweden (USD 5643.46 per inhabitant) and Denmark (USD 5532.8 per inhabitant) in the year 2016. Luxembourg also recorded the second lowest ratio of healthcare expenditure to GDP.

With health being most fundamental to living a quality life, as it affects the capacity of individuals to produce and consume goods and services, the life expectancy of an individual at the time of birth in the EU was estimated at 80.9 years in 2017. Moreover, the infant mortality rate dipped and almost halved during the last twenty (20) years in the EU. The EU member nations have been financing for health spending of their population by way of insurance that is compulsory and by the governments belonging to the EU.
Financing by Government and through compulsory insurance in the EU nations towards health spending covered over 75 percent of health spending in 2016. Almost all the member nations of the EU had reported a rise in the number of doctors per capita since the year 2000. It is anticipated that the public spending on healthcare as a share of GDP is projected to rise over the next few decades.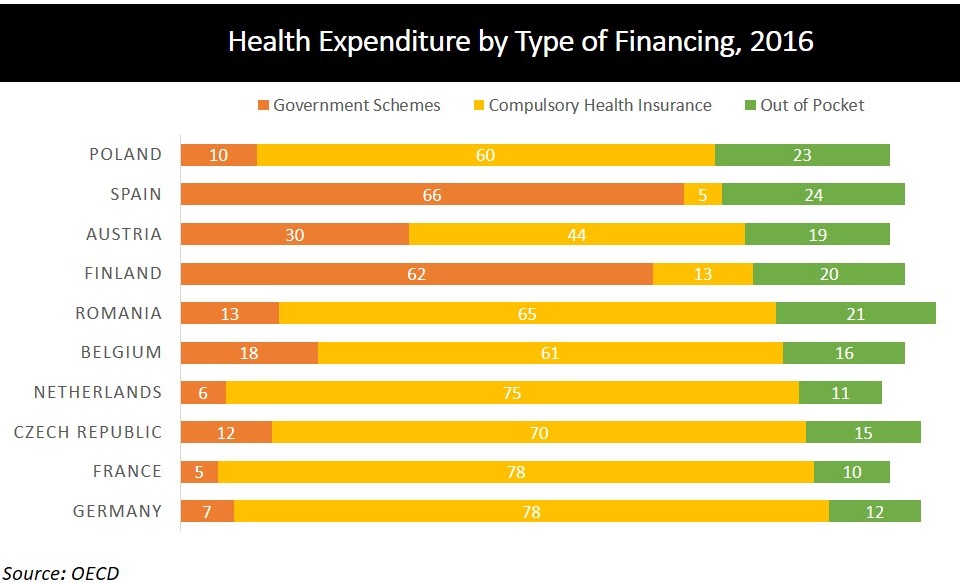 The experiences with ambulatory care centers were reported as being satisfactory and positive by more than 85 percent of patients in most countries in Europe in 2016. Almost all EU nations had witnessed a rise in the number of doctors per capita since the year 2000. Several European nations have been working on improving the state of mental illness faced by a section of population, as it is fundamental to economic growth and development for any nation. More than one in six people had been facing mental health conditions in 2016 which is equivalent to about 84 million people. More than 4 percent of GDP or over USD 663.94 billion had been spent towards mental ill-health throughout the EU.
Many health related policies have helped nations in the EU to reduce the risk factors associated with habits that affect the health of individuals. Both adult and adolescent smoking rates have registered a decline in most of the EU countries. The consumption of alcohol has declined in several nations in the EU considerably through various alcohol control policies introduced by governments across the region, although one fifth of adults continue to smoke everyday as per estimates in 2018. Obesity is another lifestyle medical condition faced by several individuals across the EU region. It is estimated that at least one in six adults are reportedly obese. The number of individuals who are highly educated were reportedly less likely to suffer from obesity as compared to those individuals with lower education. It was estimated that around 20 percent of adults having lower education levels were obese, as compared to 12% of adults who were having higher education.
The region of Europe had been faced with workforce shortages, although there is a 10 percent increase observed in the number of physicians and nurses over the past decade. Despite the increase, it is observed that the needs of the growing ageing population may not be covered over time. Moreover, inequalities still exist in various countries in the region, with some regions having adequate number of physicians and nurses, but on the other hand, there is a shortage of sufficient physicians and nurses in some parts of the region. Accessibility to healthcare has generally been high over the last decade in the region of Europe, with only a smaller share of the population reporting unmet health care needs. There has also been an increase in the number of doctors and nurses over the past decade, although rural and remote areas in the region continue to suffer from lack of adequate general practitioners.
Geographic Overview
The report includes a section on European region which is further segmented on a country/regional level including Germany, U.K., France, Italy, Spain, BENELUX, Netherlands, NORDIC, Poland, Hungary, Russia, Turkey, and Rest of Europe.
Competitive Landscape
A complete section on competitive landscape provides an understanding of the companies in current strategic report based upon various parameters which includes overview of the company, business strategy, major product offerings, key performance indicators, risk analysis, recent development, regional presence and SWOT analysis. There is a separate section which has been provided on the market share of key players in this market, as well as the competitive positioning of the players.